Hats are trendy fashion pieces, and people use them daily. If you want to buy custom hats for business purposes, there's no better place than Ningbo Pechoter Co., Ltd. We have specialized in manufacturing all kinds of hats/caps in China since 1998.
At Pechoter, we're a one-stop shop for custom-designed premium, high-quality headwear. Pechoter only offers B2B services to facilitate our customers to reach optimum satisfaction when conducting business with us. We produce an extensive collection of charming hats and caps at the factory. Our catalog contains custom baseball caps, beanies, snapback caps, truck caps, golf hats, visors, bucket hats, dad and bump caps, 5-panel caps, straw hats, beret hats, and so much more.
Why choose Pechoter? Because we've won praises from our customers for our high-quality products. We test our products for quality before shipping them out to our clients. Plus, our team is always available to respond to customer queries.
Custom Hat Materials and How We Use Them
Hats are made from different materials and for a variety of uses. Let's have a glimpse:
Straw
Straw material such as sennit straw makes hats designed to protect the wearer from the scorching sun. However, today these hats have a place in the fashion industry and are also used for decorative purposes.
Felt
During the cold days, felt hats make perfect friends with human beings. These felt hats come from either fur felt or wool felt. Wool-felt hats are low-priced, and fur-felt hats cost a lot less. The hats are also a perfect addition to workplace outfits.
Leather
Leather hats are in demand due to their warmth to the wearers. In a business setup, selling leather hats is a must.
Vegan
The demand for vegan accessories is growing the world over. You'll find some vegan hats at Pechoter made from materials like straw.
Mesh
Hats made from mesh material allow breathability, preventing heat accumulation. Hence, most people use mesh hats for sports like golf, baseball, etc.
What Types of Custom Hats Will You Find at Pechoter?
Some of the custom hats you'll find at our factory include the following:
Baseball caps
Beanies
Snapback cap
Truck cap
Golf hat
Visor
Bucket hat
Dad Hat
Bump cap
5-panel cap
Straw Hat
Beret Hat, etc.
What Sets Us Apart From Our Competition?
If you wish to find the best hat supplier in China, look no further. Here are some of the reasons we beat our competition:
Product Line
We are a hat vendor that offers different hat-related product lines. Thus, you're sure we'll provide you with plenty of choices as a company.
Factory Scale
Our factory is capable of large-scale production, which makes it easier to get wholesale prices. We use advanced machinery and equipment because we're a large-scale production company. We ensure top-quality, identical products.
Design
We offer different hat designs. You don't need to look for another hat manufacturer. Let us know what you desire, and we'll deliver beyond your expectations.
Quality
The hats' quality determines how successful your business becomes. We don't gamble with your future. We're here to promote your business. For the best quality hats, talk to us. We'll have you coming back over and over again.
Price
The pricing of the hats is an essential aspect of our business together. We're here to negotiate and strike a deal for the best quality at subsidized costs. We already know that the lower the price, the higher the profitability on your end.
Professional
We understand that professional employees are vital to achieving high-quality production. We urge you to look for reviews from our previous customers and opinions from sourcing companies, agents, and freight forwarders.
Custom and OEM
At Pechoter, we supply all types of customized hats. In addition, we also offer OEM (Original Equipment Manufacturing).
MOQ
Before you order, we'll clarify to you the minimum order quantity. There's also room to negotiate the order quantity depending on the product.
Sample
We provide product samples that help you determine what product is best for you, and based on that; you can place your order.
Lead Time
It's the time gap between initiating the order and its completion. We offer short lead times to get your business running in the shortest time possible.
Service
Our quality of service is one of the prime factors that make getting into business with us worth your while.
The Hat-Making Process
When it comes to hat making, it's important to understand the hat's structure. For instance, manufacturing caps have four main components. These components are:
Crown
Visor
Top button
Closure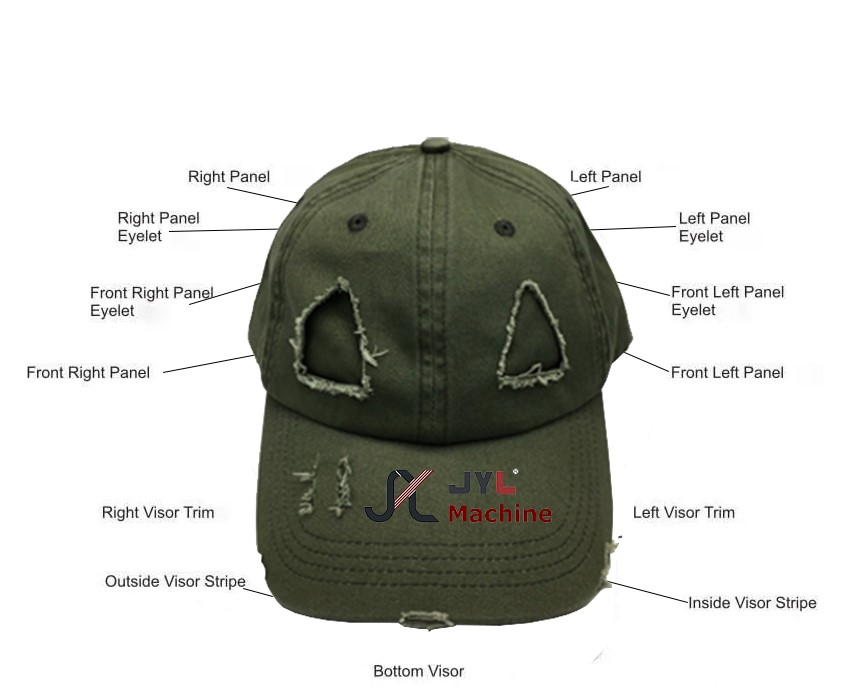 The steps of manufacturing a cap involve the following:
The first step involves cutting the fabric.
The second step is patchwork involving sewing the six pieces of fabric panel to make the crown.
Automatic Patchwork Sewing Machine
This is followed by the third step, which involves embroidery of the logos on the panels.
Automatic Logo Machine
Attaching the eyelets to the panels:
Once done with the logo embroidery, we add eyelets using the automatic eyelet machine, which pierces through the panels and stitches around the hole edges. We sew the holes to make magnificent eyelets. Not all panels have eyelets, but we ensure to have them in at most two panels.
Automatic Eyelet Sewing Machine
Attaching tapes:
Most of our hats/caps have six panels, and while stitching, we start with stitching three panels together two times and reversed to form the crown. Once we have all the panels attached, we add fabric tapes onto the crown seams from the inside to cover all seam edges. These tapes ensure the seams have a soft feel to the cap/hat wearer.
Making the visor:
We make the visor by stitching two fabrics together like a pocket, then turning it inside out. We add stiff cardboard between the fabric and seal off at the hem to achieve a stiff visor. Depending on client requirements, the material we add inside the visor ranges from stiff fabrics to plastic sheets.
After that, we make 7-8 parallel stitches on the visor to ensure that the bottom fabric doesn't get out of shape with time. For the best quality, we do it using our automatic stitching machines.
We then attach the visor to the crown using a normal single sewing machine.
Once we've attached the visor, we proceed to attach the sweatband at the base of the hat crown. While printing logos, we may add labels on the sweatband if the client prefers it.
Attaching the cloth snaps:
The last step is adding the cloth snaps (button) at the center where the panel seams converge.
Attaching the closure:
We attach an adjustable closure at the back of the hat/cap when necessary. We either use plastic material or soft fabric.
Steaming the hat
Once done with the stitching process, we place the hats on a blocking machine. The machine steams and fixes the cap's shape. It helps to avoid losing the hat's shape with continued use.
Hat Frequently Asked Questions
Can I Order Hats With My Logo?
Absolutely. Ordering custom logo hats are easy at Pechoter. Once you browse our wide selection of hats and find the perfect fit, we proceed from there.
How Do I Get Custom Embroidered Hats?
Get started on your custom hats order by browsing our huge selection of custom beanies, caps, and hats. We proudly offer a variety of hats for embroidery, like performance hats, baseball caps, and trucker hats.
How long does a custom hat take?
We need 4-6 weeks lead time, depending on the intensity of the project.
Do you ship internationally?
Of course, we ship worldwide. You, as the client, are responsible for taxes, duty, and postage for all international shipping, exchanges, and returns. There is no free shipping of products.
If you need any further information, please don't hesitate to contact us.
Can I order over the phone?
Yes, we do conduct a phone assessment. Contact us during business hours, and our team will be ready to assist you.
Do you have readily available hats for purchase at your factory?
Yes, we have a collection ready for purchase with access to different sizes and off-season materials.
What are your hours of operation?
We are open Monday to Saturday (Insert Time) and Sunday (Insert Time).
How to Find Us
Website: www.pechoter.com
Email us at: sale@pechoter.com
Contact: +86 15168136922
Mobile Number (WhatsApp): +86 15168136922